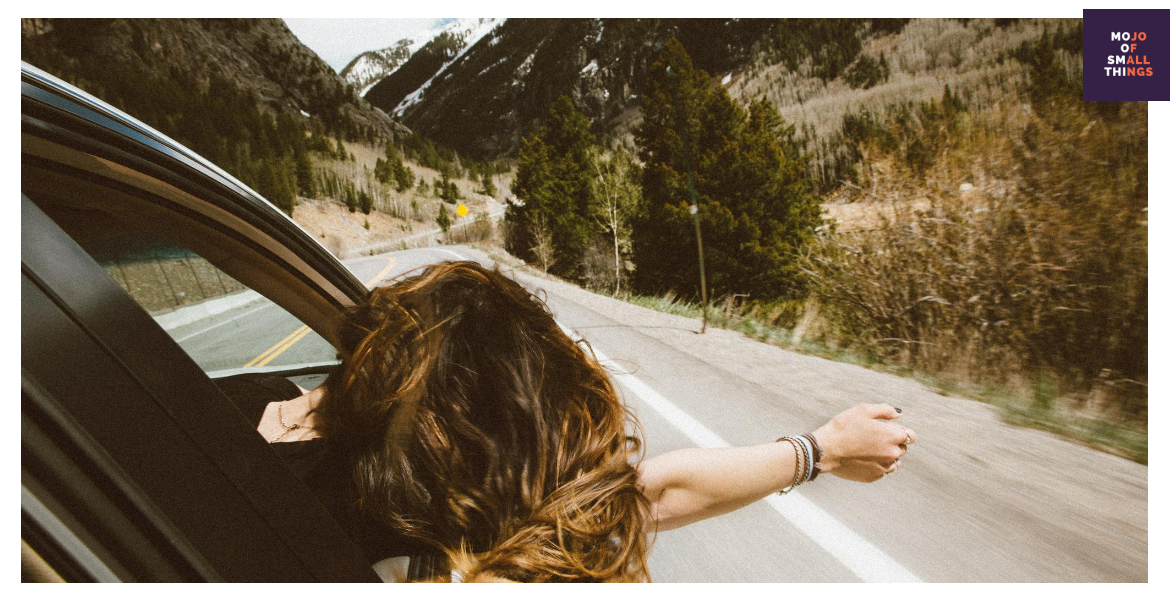 All of us do aspire a life of abundance, love, and joy, but most of us don't end up achieving that. Some blame it on destiny and some blame it to circumstances forgetting that The only person who can help you become what you decide to be is You.
Life of abundance, love, and joy comes from doing the right things, but more importantly, from not doing the 'Wrong things'. They can be behaviors, but more importantly they are the assumptions we have about the world around and about ourselves.
The assumption that you are not good enough, hold the full power to drive us into the self-destructive mode of existence wherein you are unfulfilled, unloved and frustrated- in short, you end up destroying yourself up.
Mojo of Small Things presents 5 Ways You can STOP destroying yourself- every day.
1. You don't have a bigger mission in life.
Get a Mission!
We are not what we have, We are what we do.
One of the primary ways to lead a good life is to do something that will make this world a better place and become part of something big (you believe in).
Having a bigger mission ensures that you are working, collaborating, creating and evolving.
This can be anything, the only two conditions being – it should ensure that you become better at what you love and it should make a difference to you & the world around.
Not having a bigger mission will mean that you will be squandering your talents away and get deprived of getting into the 'ZONE".
[getting into the ZONE: doing THAT thing such that time ceases to matter and you are in a stable state of enjoyment].
Read, travel, meet people, reach within, release your passion: there are so many ways you can make this world a better place.
2. You don't love yourself.
Start LOVING YOURSELF.
This is THE sure-shot and never-failing way towards an unfulfilled and unloved life.
Loving yourself is not the same as self-obsession. It just means that you accept yourself the way you are and realize that it's you who will take responsibility for making yourself better (more grateful and more helpful).
Many of us, often loose our identity and sense of being- that's why we seek approval from others (that we are good) and expect people to love us fully (without loving ourselves fully and without being able to love someone that way).
Once you reach with in and unleash your passions – you will start feeling that you are enough, can make a difference and that is when you will start taking care of yourself, your actions and your choices. This is where Self Love emanates.
3. You expect overnight results.
Embrace PATIENCE.
Nothing great came overnight and 'Jack and the Beanstalk' was a fiction story.
Whether you they are big pine trees, Himalaya's, love or anything great – nothing came up overnight. They all come slow-steady-small (the law). Expecting instant results or getting desperate for an outcome makes you vulnerable to doing something you may regret later.
Don't be greedy and Embrace Patience.
This way the reward will make you happy but an occasional failure wont break you down.
4. Your definition of success is not the same as what makes you happy.
Define your success and Work towards being HAPPY.
What you enjoy may not be the same as what you decide to chase!
Suppose all you wanted when you were a kid was to make a supercar, but now all you want to do is make money. Though You can make money by making a supercar, you may choose to not make a supercar when you have money. So what you enjoy may not be the same as what you decide to chase.
It is pretty OK and recommended to have a personal take on 'What it means to succeed?' but what is more crucial is to have a blueprint guiding 'What all to do or How to proceed towards achieving YOUR kind of success?'
If your definition of success and what makes you happy?, are two shores of the same river, and there is no sync in between you are going to SINK for sure.
Be Courageous and Foolish at the same time – you have just got one life : if you are not killing someone or pressing the NUKE button, you can always make it better over time.
5. Offering help and Being Nice to People is not YOUR CUP OF TEA.
HELP- Who ever you can, How ever you can and When ever you can.
If the first question you ask before doing anything is 'What is there for me in this?', then you are on the brink of falling out of the 'HELP-ZONE'. The Zone wherein you can neither seek help nor offer it, without making people suspicious.
Help is a full circle game: offer before you seek, offer after you seek and offer even when you don't need to.
Having a successful life is just 5 mindsets away.
Will It take time? Yes,
Will it be tough? Yes,
Will you loose people in your life? Yes,
But you will gain good things and people in your life.